Charlotte's Web is done.
Pattern: Charlotte's Web shawl
Yarn: Knit Picks Memories, 1.5 skeins in Rocky Mountain Dawn, 1.1 skeins in Yukon, on size 6 needles
While blocking: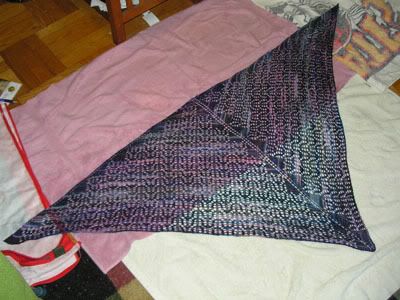 And a bad shot taken with the self-timer, but you get the idea at least: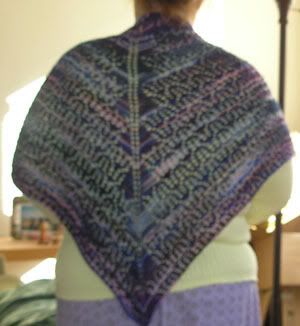 This was my first real lace project and I really enjoyed it. Chart reading is not my strong point--my brain doesn't work well in reading the symbols--but this was an eight row repeat that I actually managed to memorize. And it really wasn't difficult. I see more lace in my future.
And something I'd been waiting for arrived this week--my Stitch n Bitch 2008 Page a Day calendar. Does this look familiar?
Remember
this
?
Now back to work on my sock...