The knitting blog has been quiet recently, which is ironic since I've been extremely productive lately. All of that knitting in front of my season one dvds of "Life Goes On" pays off. As of last night I finished all of my knitting for my Secret Cupid--both projects (it turned into two) are done! But I can't post pictures because it needs to stay a surprise. And I'm two thirds of the way through the purply cabley goodness I previewed in my last post; it's the Cardigan for Arwen from Interweave Knits. But right now it's only the back and left front pieces, so there isn't much to show.
But there is one project I can show in all of its colorful glory. Another blogger has begun a charity knitting drive that involves
knitting crazy fun fur hats for kids with cancer at Children's Hospital here in Boston
. Here are the three hats I've finished so far.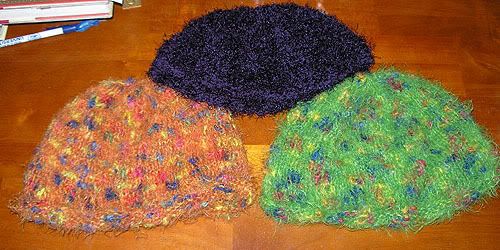 The top one is almost a beanie, because I only had one skein of the yarn, which is Paton's Allure in a dark plum color. The bottom two are both made from Classic Elite Phoenix. I have nine more skeins of the orange color, courtesy of this year's Boston Knit Out, so I'm sure there will be several more made like that one. They knit up very quickly; I did the top one on size 13 needles and the other two on 10.5 needles.
And now back to the cardigan. . .