I had an adventurous trip back to Boston on Monday. I'm currently referring to my train as either the "Train of the Damned" or "The Little Engine That Couldn't." It had engine trouble the entire trip and then broke down entirely just outside of New Haven. Which is where we spent two hours waiting for the rescue engine to show up and get hooked up to the front of the train. And since no engine means no power and no lights, there was nothing to do for those two hours. There were emergency lights, but they were very dim. The conductors even stuck glow sticks in them to make them a little brighter.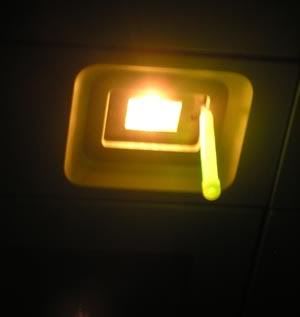 (Yeah, like I wasn't going to take a picture of that?)
So we got into Boston four hours late. But I finally did start doing some knitting once we got a new engine and the lights came back on. I cast on for the Charlotte's Web shawl and got through the first 42 rows.
It's my first time really doing lace and, other than the chart reading (my brain doesn't do so well with reading them), I'm really enjoying it.
Being home was good. I spent a lot of time with the lovely poodle, so I'll treat you to a few pictures.
Henry giving me his disdainful "I don't do costumes" look:
Playing in the leaves:
And watching you even when you think he's sleeping:
Such a cutie!