A friend of mine is currently living in Vietnam and recently had the idea to collect knit teddy bears for the local orphanages, so I promised to knit a couple. And here is the first one: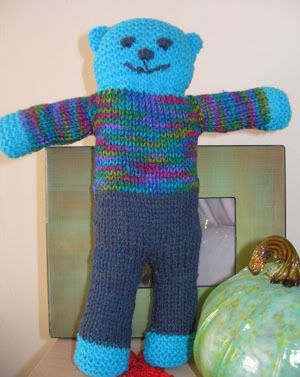 Pattern:
Mother Bear Bear
Yarn: Leftover Lion Brand Wool Ease, Lion Brand Baby, and Caron something or other, on size 7 needles
And now to start on the second...
Catherine
also created her own mini-meme and tagged me to post the youngest picture I could find of myself. Luckily my scanner is currently not working so we can avoid the seriously horrible teenage years. But I found I had this image scanned, so here you go.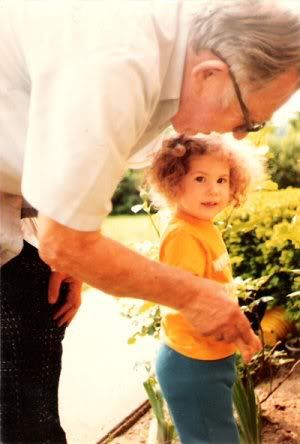 I don't how old I am in this picture, 2 or 3 perhaps? But that's me with my grandpa, one of my favorite people in the world. He passed away when I was twelve years old. He sang funny songs and told great jokes and let me beat him in ping pong. I miss him. You can almost see my missing front teeth in this picture; I knocked out my two front teeth when I was two by running into a windowsill. It's actually my earliest memory, not the pain or anything, just looking at the windowsill when it happened. So I was that toothless kid early.