Way back in the middle of 2007, I started making squares for the Lizard Ridge afghan. About six months later, I finished knitting my 25 squares (I was going for a 5 x 5 blanket), and three months after that I spent a weekend crocheting ten of those squares together. Then I had visitors staying with me, and I had to clean the laid out squares off of the floor. They've been sitting under my table ever since.
That is, until this weekend. After 12 hours of crocheting yesterday, and another 4 today, it's finally done.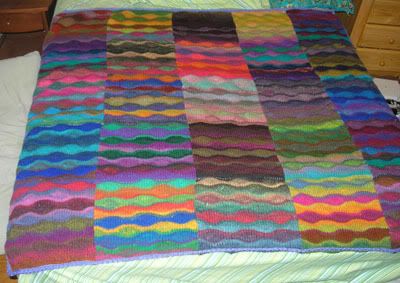 Pattern:
Lizard Ridge afghan
, from Knitty
Yarn: Noro Kureyon, many skeins in many colorways (I've long since lost track), on US 8 needles. Crocheted together with leftover Cascade 220, and border done in Brown Sheep Lamb's Pride Worsted in periwinkle, all using a J hook.
Notes: I love the colors.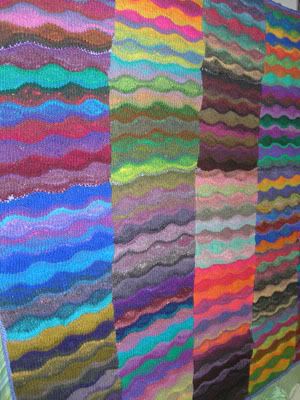 It's really nice to see the whole thing come together, especially after so long. But I may never pick up a crochet hook again after this; 16 hours over the last two days has just been too much!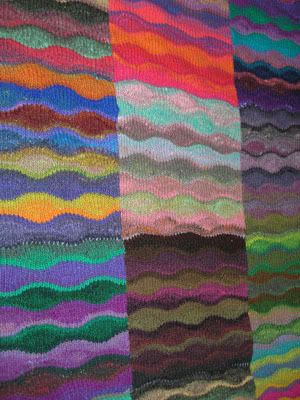 And I even managed to finish it before another winter has ended, so I can get some use out of it this season!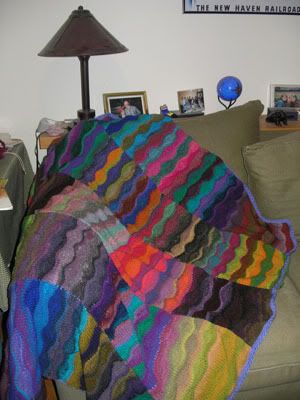 I can hardly believe it's done. But it's now in place on my sofa, waiting to be snuggled up in.