My first pair of toe up socks, and I'm kind of in love.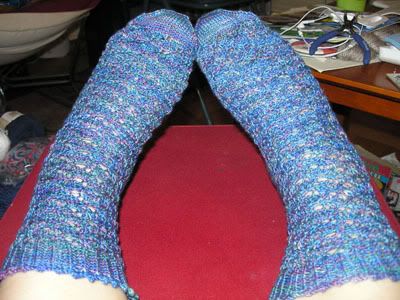 Pattern:
Coupling
, from Knitty
Yarn: Fleece Artist Sea Wool in Marine (less than a skein) on US 1.5 needles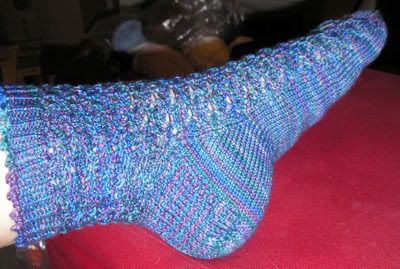 For me, the steps I used and the pattern and the yarn were essentially the perfect combination. I used
this Turkish cast on
for the toe, which I loved, and which didn't require short rows. I used a picot bind off on the cuff; I had originally used a decrease bind off, which looked gorgeous, but I couldn't get the sock over my heel. The picot gives enough elasticity to get the sock on and off. And in between was this complex looking, but actually quite simple lace pattern. This pattern also uses a heel flap construction, which I much prefer to a short row heel, so it's been pretty win win all around.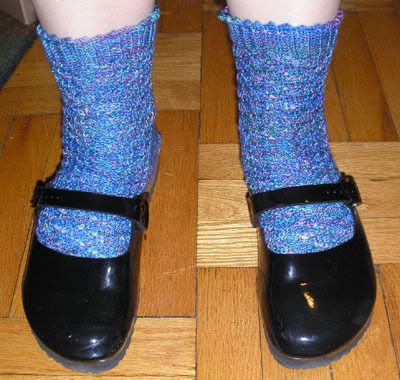 And I love the yarn. Fleece Artist Sea Wool is one of my new favorites.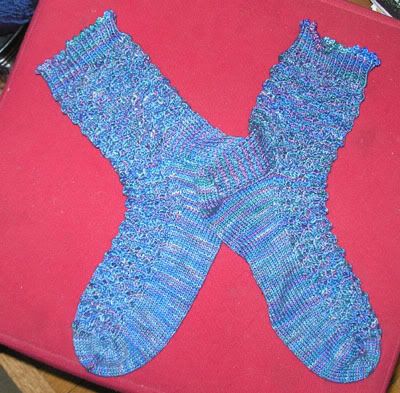 This was a really enjoyable and satisfying project, and I'm really pleased with how they came out!