The year of Doctor Who knitting started last May, when I decided to
knit a TARDIS
for my friend's birthday. That led to the idea to
knit my own Tenth Doctor
. And then I got crazy and
knit a second mini David Tennant
. Oh yeah, and there was
the Adipose
I knit for Liz...
Anyway, it had come around again to my friend's birthday, and I was trying to figure out what to make or get him. And, eventually, I came around to this.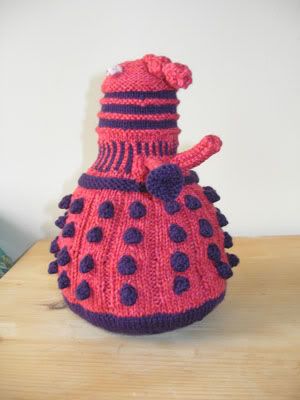 Pattern:
Extermiknit!
, the Dalek, by Penwiper
Yarn: Cascade 220 Quatro in a pink shade and Valley Yarns Amherst in eggplant, on US 4 needles
Notes: And it just turned out so cute that I then had to make one for myself, which led to this: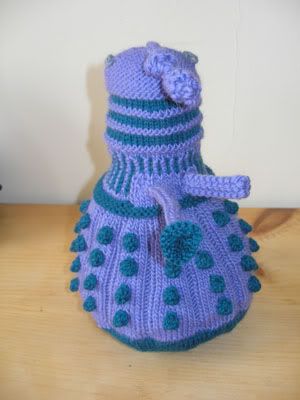 Yarn: Lamb's Pride Brown Sheep Worsted in periwinkle and Patons Classic Merino in peacock, on US 4 needles
Notes: Two color knitting and I still have a difference of opinion, but I'm newly in love with corrugated ribbing.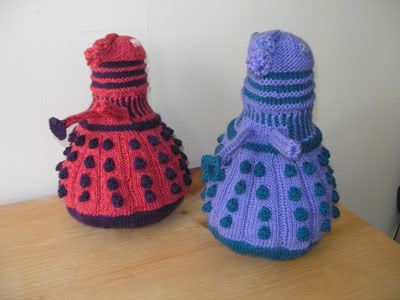 So, in the time period before I mailed off the pink Dalek to his new home, that meant I had two Doctor Whos and two Daleks in my apartment. Which inevitably led to these (I was going for battle scenes, but I didn't have enough hands, and the Doctors did not want to stand up on their own)...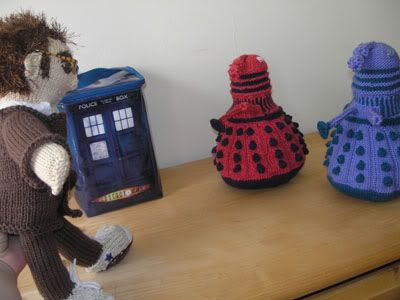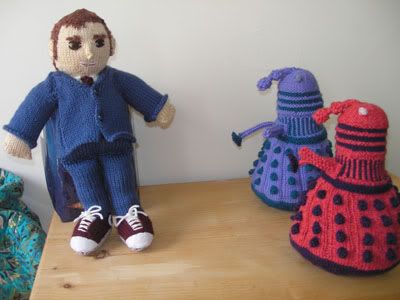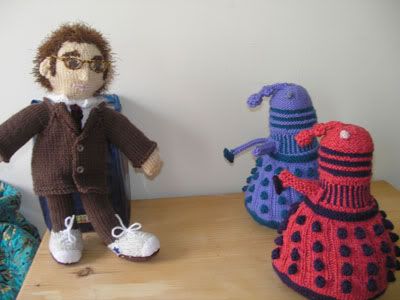 And yes, I have been told that I am both daft and bonkers. In the best possible way, of course.