Ysolda Teague
has been visiting around the mid Atlantic and New England these last few weeks, and today she was at Windsor Button here in Boston. She brought lots of lovely samples to look at, and toys to play with, and her book to sign (and even Jess from Ravelry). All of the things were beautiful--or adorable--but the thing that kept me going back to it the most? The exquisite feet on Elijah the elephant.
I love how they come to those lovely flat centers.
I ran into some people I hadn't seen for a while, and chatted with the guest of honor (who kindly didn't cringe too much at my brightly variegated Ishbel in progress--though I do plan to do another in a lovely semi-solid pink I found buried in my stash, eventually), and even met someone who invoked my adored Helene Hanff in conversation. Yay for kindred reading spirits!
And, because I am a dork, I did get a picture with Ysolda.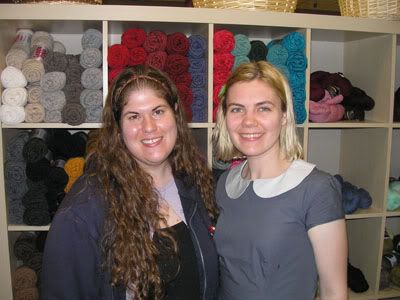 See,
Kate
? I did meet her.