And, a day later, here's the second hat in my spree.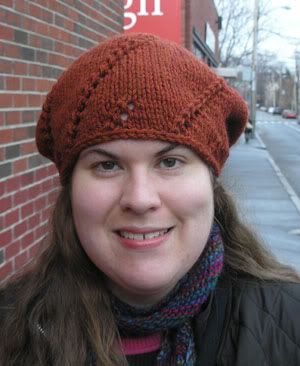 Pattern: Icing Swirl Hat, by Ysolda Teague
Yarn: Lion Brand Wool Ease Chunky in spice, about 3/4 of a skein, on US10.5 needles
I had picked up the yarn at the Knitsmiths swap last month because I really liked the color. And I tried the take-photos-of-myself-using-the-bathroom-mirror thing again, but it didn't work so well this time around. So
Cat
was kind enough to take some photos before knitting group tonight, which got us stared at by some people in Qdoba. Knitters providing entertainment, as usual.