I've been trying to knit from stash lately--I haven't bought yarn in two months, go me!--and I'd had these three skeins of Berroco Jasper hanging around. They were always meant to be a stripey scarf, but I didn't know exactly what I wanted until I found this pattern.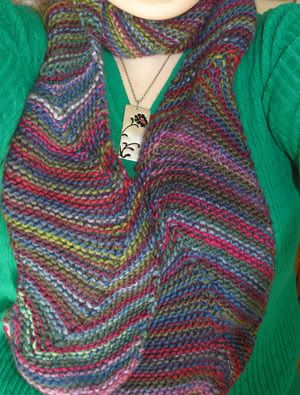 Pattern:
Waving Chevron Scarf
, by leethal
Yarn: Berroco Jasper, 1 skein each in red, blue, and green, on size 10.5 US needles
Notes: I just knit away until I ran out of yarn. Quick knit for a scarf, and the yarn is so soft and totally yummy. If I could afford it I'd make a sweater out of it just to have something ultra cozy in which to curl up.
And the long view: