It's the last day of October, and the last day of Socktoberfest, and thus fitting it's the day I post my Mystery Socktober Socks!
Pattern: Mystery Sock '09 by
Through the Loops
Yarn: S.R. Kertzer On Your Toes Bamboo in Gray (1 full skein), plus a little leftover sock yarn, on US 1.5 needles
See that little bit of purple on the toe of the right foot? I ran out of yarn with four rows to go on the second sock! I knew that was a danger with the yarn I was using, which is why I only did three repeats on the leg instead of the called for five. But I came so close and had to finish it off with some leftover Socks that Rock.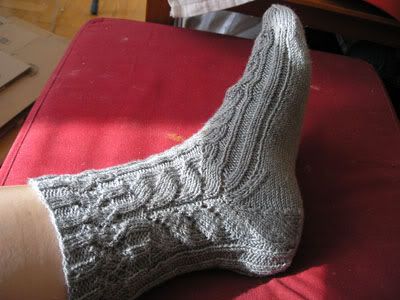 It's a very nice pattern, though, and this knitalong was a fun thing to do over October.