I've been rather lax about posting lately, so you're going to be treated to a whole bunch of photos.
Way back last Friday,
Catherine
,
Ariel
, and I went spent the evening celebrating the forthcoming Harry Potter book. We started out in Harvard Square but left quickly after the opening band turned out to be three eight year olds screaming into the microphone. So we ended up in Coolidge Corner, at Potterpalooza. And we had a blast.
There were cookies.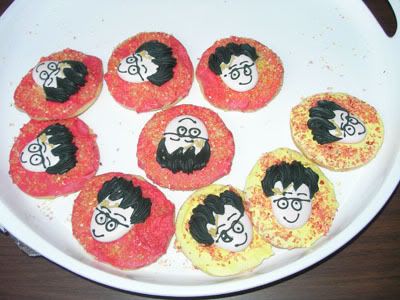 There were tattoos (we all got the golden snitch).
Here are the three of us, ready for the book to come out (Catherine painted her shirt herself!).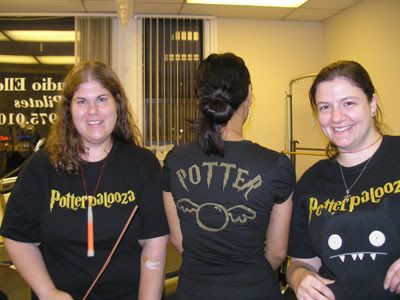 We also did trivia contests and a scavenger hunt and watched wizard lookalikes dance. And then we settled into wait for midnight.
Catherine read.
I knit.
And just before 1 am, we got our books.
(And, in somewhat fiber related news, as you may have noticed from the photos, I also cut a foot off of my hair that week.)
And I found out this week that my good luck in Harry Potter related things continues (remember, I won the Ravenclaw scarf kit at Webs). I won the grand prize in the bookstore's trivia contest!
A Hogwarts Pillow!
And the back is all stars: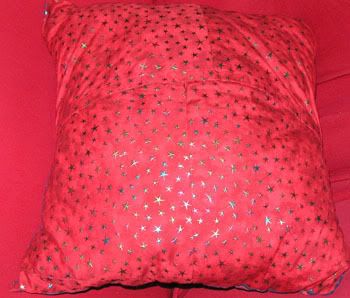 As for knitting, we've been hanging out with a new
Ravelry
group in Cambridge, and also did some knitting when we went to see A Midsummer Night's Dream on Boston Common. And what have I been working on? I started work on the Tomato sweater, from
No Sheep for Ewe
, and I had gotten pretty far until disaster struck late last week, and I had to frog back seven rows of colorwork. It was not pretty. But here's a little taste of its current state: