The Sockapalooza socks are finished! Yippee!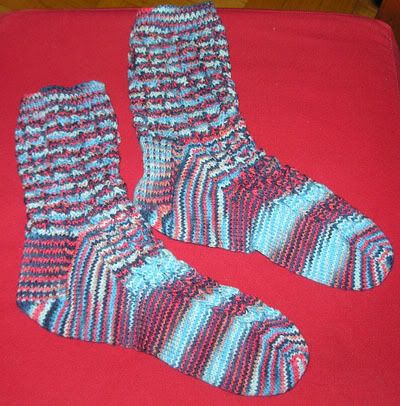 Pattern: Cross Hatch Lace, from
More Sensational Knitted Socks
Yarn: Lorna's Laces Shepherd Sock in Socknitters' Summer Sunset
Needles: Knitpicks Classic Circulars US 2.5 (3.0 mm)
Notes: My Sockapalooza pal has larger ankles so I cast on 72 stitches for the cuff, and then reduced to 60 at the gusset. I really hope they fit. This was also my first time using my Knitpicks needles and I love them. The cord was flexible and had no memory and they were great for Magic Loop.
I finished the socks on Saturday night, but my Sunday was also yarn-filled. A good number of the
Knitsmiths
took a road trip out to the western part of the state to visit
Webs
and support
Alison
at her
book
signing. The group of us had much fun roaming the store and warehouse, fondling many skeins of yarn, and eating Harry Potter themed treats. And look what I won in one of the drawings: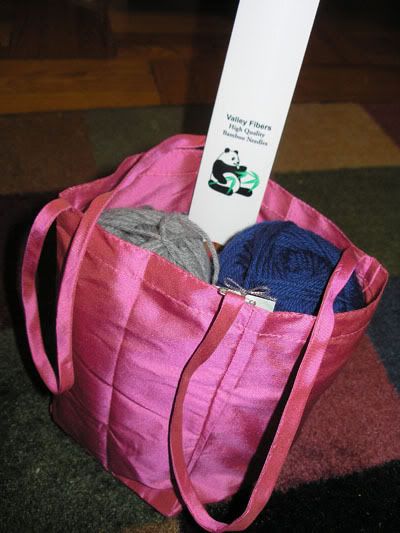 It's a kit to make a Ravenclaw scarf, which is rather appropriate since that's probably what house I would be in. It came with the yarn and bamboo needles, and it is all in a Lantern Moon silk bag!
And, of course, I didn't come away from Webs without spending some money.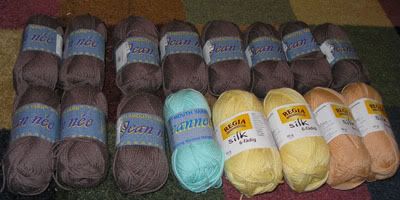 The large amount of brown yarn is a cotton blend that is destined to become my Tomato sweater, with the blue being the accent color. And the yellow and peach are some Regia Silk that was on closeout which I've been wanting to try.
On the way back from Northampton we got caught in what was essentially a monsoon. I've never seen raindrops that large in my life! But we made it back safe and sound, and it was a very fun day.