I cast on for this baby hat on Sunday while I was at
Knitsmiths
and got to halfway through the crown decreases on Monday night before I put it on my head and realized it was large enough to fit me and thus far too big for a ten and a half month old child. So, it was frogged, I rewrote the pattern to fit the gauge I was getting, and then cast on again. That time I got halfway through the crown before I realized I had screwed up and made the brim far too long, so I ripped back halfway again. The third time, it seems to have worked, and here is the result.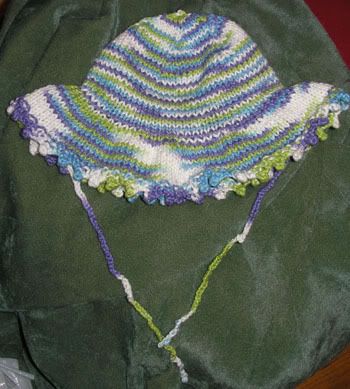 The pattern as originally written is
Miss Dashwood
from
Knitty
. When I recalculated it to fit the gauge I was getting I eliminated the bobble row and changed the brim decreases. So I've nicknamed it Miss Marianne. The yarn is Bernat Cottontots in Jelly Belly, and it was knit on size 6 bamboo needles. The only thing I didn't like about the pattern was the need to do k4tog tbl (which was really hard on my hands during the first go round) but when I modified the pattern for my gauge I changed the decrease row to get rid of that. Otherwise, I think it's an adorable pattern and can't wait to see it on its
recipient
.