And the 100th post contest has a winner! I ended up going with the old fashioned of pulling a name out of a hat. But the winner of the Cherry Tree Hill Supersock in Amethyst is ...
the owner of the lovely Tesla, the blog-less Jessica!
Now I have to figure out to get it to you, though since we're in the same metro area that shouldn't be too hard. :)
Congrats!
----------------------------------
This weekend Danielle, Catherine, Cassandra, and I did a road trip out to Northampton and Webs for their annual tent sale. It was certainly an experience! Lots of knitters, lots of yarn, lots of fleece, lots of walking around and petting yarn, and lots of debating what to buy. At one point we just piled up all of the stuff we were considering buying (not all of this went home with us):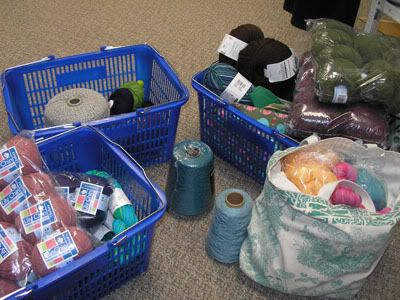 And here's what I ended up bringing home: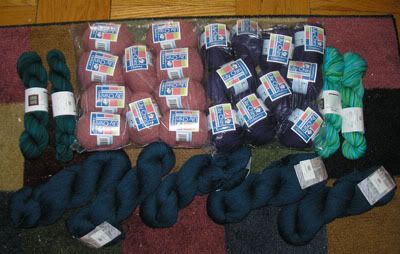 Four skeins of Shibui Sock (two in Peacock and two in Anime), five skeins of Cascade 220 in veridian heather (the picture doesn't do it justice, it's a lovely deep blue green heather), a bag of Lily Chin Chelsea in what I'm calling Nantucket red, and a bag of Lily Chin Gramercy in a dark purple. That's enough for three sweaters and two pairs of socks.
After the sale we headed into downtown Northampton. It was a lovely, sunny day, and we just wandered around various stores and the Marketplace and had lunch and went to the fabric store and just had a lot of fun. I didn't get home until almost 9 that night, but it was well worth it.