My mom gave me a copy of
Anne of Green Gables
(the book) when I was eight. By the next year I was obsessed. I convinced my parents to go on vacation to Prince Edward Island (beautiful, by the way), owned every book written by L.M. Montgomery, and soon knew the movies by heart. I still love all of that today. Gilbert Blythe was essentially my first crush.
Last night I went to see the musical
The Drowsy Chaperone
here in Boston. It was wonderful--fun and funny and charming, with just enough snark. I laughed so hard tears were coming out of my eyes.
What does this have to do with
Anne of Green Gables
? The main character in
The Drowsy Chaperone
, the Man in Chair, was played by Jonathan Crombie, best known for playing Gilbert Blythe in the Anne movies. He was fantastic as the Man, camping it up just right, and making me snort more than once.
And after the show, at the stage door (where embarrassingly I was the only person there for quite a while), I got to meet Jonathan. He was really sweet and all smiles, and we talked about
Slings & Arrows
, and it was really really nice. And I got a picture.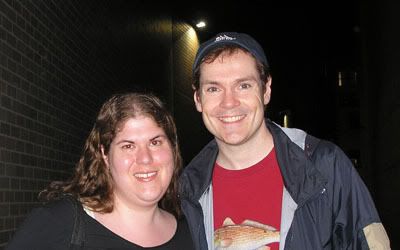 I don't think I stopped smiling until after I fell asleep last night.