Today's a big day in my neighborhood--the Red Sox home opener! I won't be home when the flyover happens, which is probably good. One year the planes were so low, the sound made me almost fall over. Though I am sad I won't get to see the ring ceremony.
But the World Series trophy was in town this weekend, and yesterday Mike Lowell--my favorite player--made an appearance at Niketown. It turned out to be really for a group of Little Leaguers they brought in for the event; they were given the seats and they were the ones allowed to ask questions, while the rest of us were shepherded to the back. But Mike was lovely and funny. When asked about Jonathan Papelbon's dog eating the World Series ball, his response was, "Uh, we don't really believe him. He probably dropped it in the toilet or something. It's Pap." He was really good with the kids' questions and seemed like a genuinely good guy.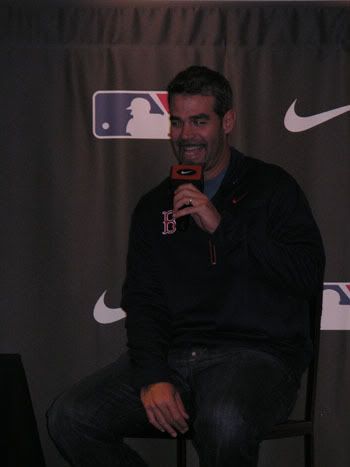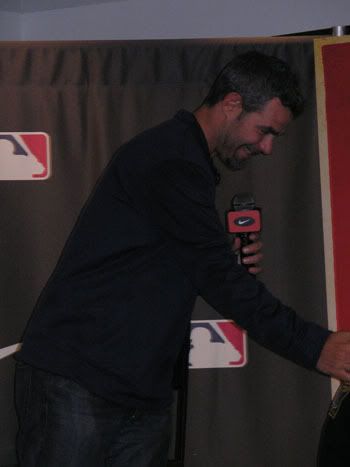 There was a raffle of things like autographed baseballs and Opening Day tickets, but I didn't win anything, alas. After the event was over, they herded Mike away, so there were to be no autographs or anything. But I found the group of crazy autograph hounds outside and hung out with them. I ended up standing in and outside of a parking garage freezing for over an hour, but I got Mike Lowell's autograph as he left:
He was really nice about it, and stopped his car and signed for a group of us. His wife and kids were with him--his daughter has the same first name as I do!
So that was a successful day, in my eyes. :)
And I also got my picture taken with the World Series trophy. (And seriously, I have to be one of the least photogenic people out there. I got two pictures taken and this was the best of the pair.)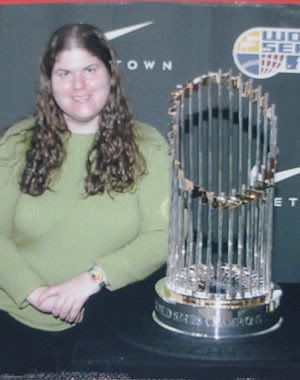 Let's go Red Sox!