So, um, it's been a little while since I've posted. Which means there'll be a few posts in rapid succession just trying to catch up! This first post is about baseball, namely the Red Sox, so if you're bored by my chatter about the boys, I'll post other stuff tomorrow. :)
Anyway, way back last weekend--the 11th-13th, when the Yankees were in town--I got incredibly lucky. Friday afternoon a friend called and asked, "Got any plans to cancel tonight?" She had been given four tickets to that night's Red Sox-Yankees game and was inviting me to come along! We were in the grandstands, under the overhang so we didn't get rained on, and between home plate and first base. Alas, the Red Sox lost that night, but we had a fun time and here are a few pictures:
Clay Bucholtz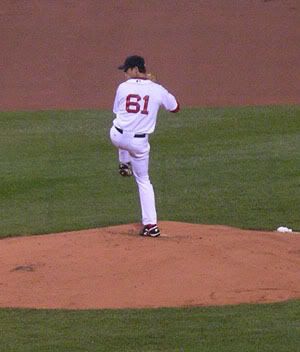 Kevin Youkilis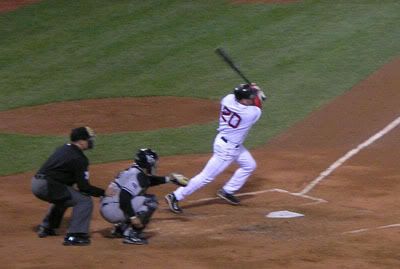 and Manny Ramirez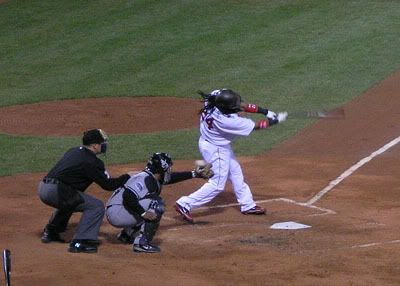 Then, on Sunday afternoon,
another friend
called. She had standing room tickets for that night's Red Sox-Yankees game; some people had bailed, would I like to go? So I got to two Red Sox-Yankees games in one weekend! Our tickets were up in the right field roof deck, and we nearly froze to death during an extremely long game, but the Red Sox won, and we had much fun jumping and dancing and yelling to keep warm. Plus, we drank a lot of hot chocolate. A couple of pictures from Sunday night's game:
The view from the right field roof deck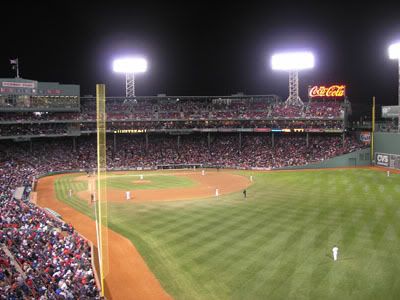 After Mike Timlin's disastrous outing I had to take a picture of his E.R.A. for posterity's sake. It was insane.
Tomorrow: the puppy! And maybe actual knitting!