Once again, I'm playing catch up!
On Thursday, one of my favorite bands, the Barenaked Ladies, had a CD release and signing party out in Framingham. Though it wasn't widely publicized, there were still around 200 people there. Their new CD, Snacktime, is an album for kids, so there were lots of tiny people running around. They played about six songs and were their usual hilarious selves, and Tyler destroyed a map of Minnesota (I forgot to ask him during the signing whether he paid for it :). All in all, it was a lot of fun, and I met some fun people.
The CD is really cute, and the song "I Can Sing" even includes a knitting reference:
"I can knit a scarf
But you can't knit a sweater
When I'm underwater
I couldn't be wetter
Never go swimmin' in a mohair sweater"
A picture from the performance: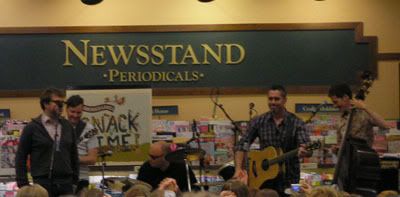 And from the signing: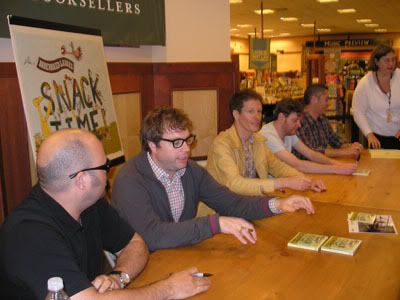 I also took a couple of videos. I really wish I had gotten Jim's Polliwog song because it was awesome in person.
7 8 9
Eraser (this one is really shaky at the beginning--too many people walking in front of me!--but gets better)
It was a really fun, intimate event, even with 200 other fans, and I'm glad I got the chance to go.