It's post #99! Which means my next post will be #100. In honor of reaching that momentous point, I'm having a little contest. All you have to do is leave a comment on this post. You get an extra entry if you tell me something interesting or funny in that comment.
And what will you win? A beautiful skein of Cherry Tree Hill Supersock in Amethyst.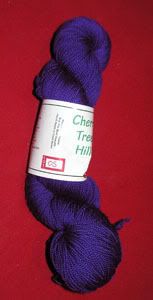 Leave your comment by this Friday night--May 16th--at 11:59 pm EDT for your chance to enter!
--------------------------------------------
On my way to work yesterday I passed two geese out with their goslings. How could I not stop to take some pictures?