One of my favorite little girls in the world turned two years old on Friday, and I made her a little something to celebrate the day.
Pattern: Bunny Big Foot, from Zoe Mellor's
Knitted Toys
Yarn: Lion Brand Cotton Ease in Orangeade (discontinued) and Plymouth Jeannee in aqua, on size 5 needles
Notes: I love this book and want to make just about everything in it. I had some problems with stitch counts matching on the head but a little fudging made everything okay enough. The bunny came out great, and I love his big feet!
And the bunny tail: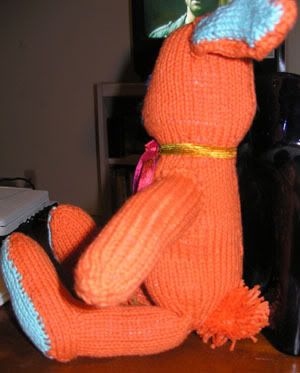 And the birthday girl and her new toy (she's cuter):