1. To give this post some knitting content: The second episode of
Fiber Cult
is up and waiting to be downloaded. I haven't had a chance to listen to it yet, but we had fun making it.
2.
Cassandra
tagged me for the Wikipedia meme that's going around.
The deal is that you go to Wikipedia, look up your birth day, and then post 3 events, 2 births, and a holiday.
September 10
Events:
(You know, it was hard to find non depressing events that happened on my birthday.)
1608 - John Smith is elected council president of Jamestown, Virginia.
1846 - Elias Howe gets a patent for the sewing machine.
1963 - 20 African-American students enter public schools in Alabama.
Birthdays:
1934 - Roger Maris, American baseball player (d. 1985)
1960 - Colin Firth, English actor
Holidays:
Gibraltar - National Day.
World Suicide Prevention Day.
Teacher's Day in China.
Day of the Child in Honduras.
I don't think anyone actually reading this blog hasn't already been tagged, but if you want to do it, go for it!
3. Yesterday was the fourth of July, and a rainy and cold fourth it was. I spent most of the day huddled under an umbrella on the Esplanade. My back is complaining now. But here are a couple of pretty fireworks pictures that I took last night: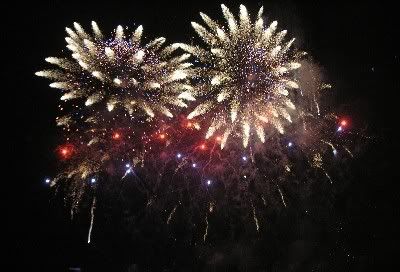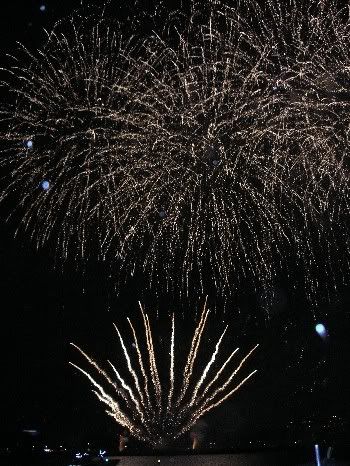 And these ones are even stars, which
Ariel
should enjoy: