Oh right, knitting.
Well, the ladies finally got our acts together and had our Secret Spook exchange. We ended up doing it over dinner at Bertucci's. The person I knit for was
Ariel
, and I made her socks--what else?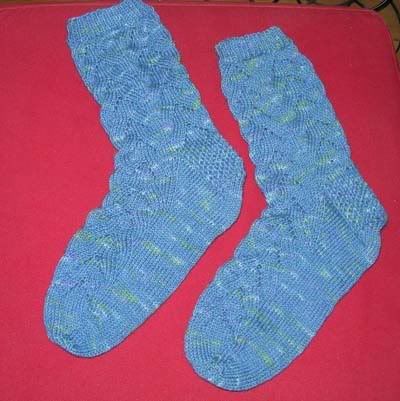 Pattern:
Monkeys
, by Cookie A.
Yarn: Regia 4-fadig color, 2 skeins
Notes: I made purl free Monkeys, which I really enjoyed making. The pattern went very quickly. I also did an eye of partridge heel, which I thought looked really cool.
And the recipient with her socks: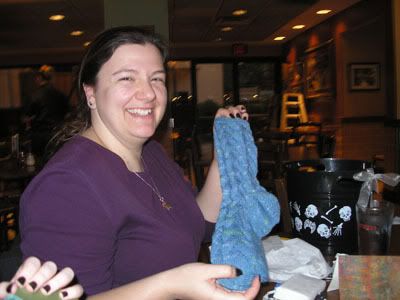 And
Cassandra
was my Secret Spook. She made me
Endpaper Mitts
! Well, at the moment it's an almost completed Endpaper Mitt, but an awesome one, nonetheless.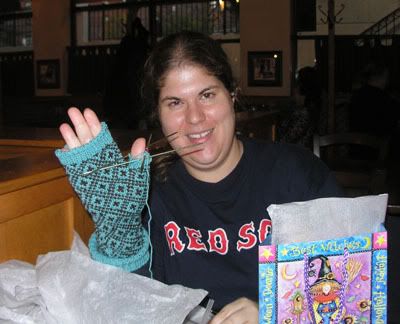 And look what else she gave me--a rubber stamp and ink, stitch markers, a grow-a-monster, and stationery!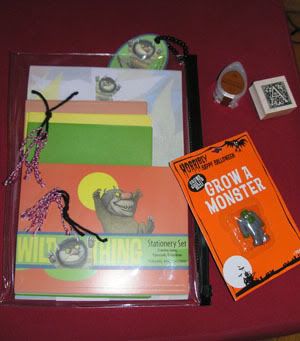 And
Catherine
with the socks she got from Ariel.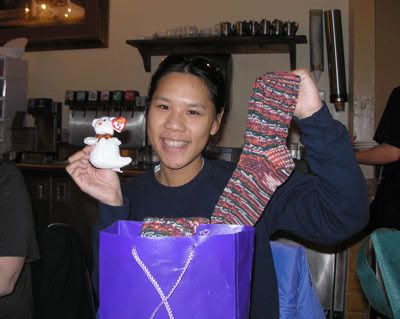 Cassandra with the DNA she got from Catherine.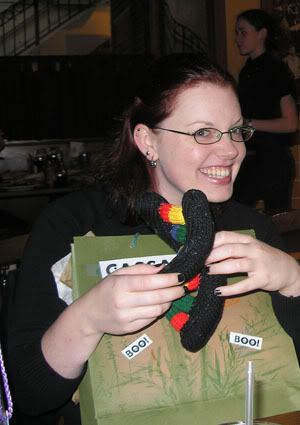 And
Cathy
admiring the yarn she received from
Amanda
(in absentia):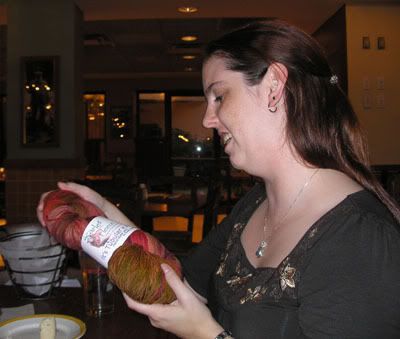 Another successful swap! And speaking of swaps, I got a second(!) Sockapalooza package the other day. When my original sock pal's package was delayed I was assigned a sock saviour, and she decided she wanted to finish making me my socks even after I got my first pair. And look, they're crocheted!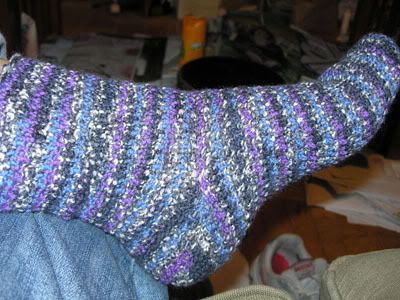 Thanks,
Andrea
! They're great! I got lucky and got two pairs of Sockapalooza socks this year!
In yet another segueway, speaking of luck, look what I won last night at the advance screening of Bee Movie that we went to: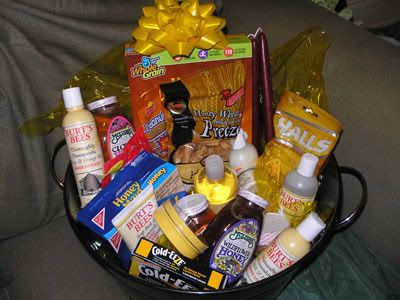 All sorts of bee-related products, including lots of honey and Burt's Bees products (those I'm really looking forward to!). Very cool.