It's a new year, and a new little one is soon to be born, so I've been doing a storm of baby knitting. My favorite two-and-a-half year old, the Mouse, is soon to have a baby brother! I'm currently referring to him as the Mouseketeer. And here are a few things I've made for him recently.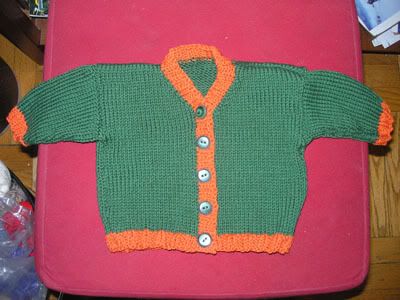 Pattern: V-Neck Cardigan with Contrast Ribs, from Debbie Bliss's
Baby Knits for Beginners
, 3-6 month size
Yarn: Brown Sheep Cotton Fleece in Jungle Green (most of a skein) and Orange (small amount) on size 6 needles
Notes: Simple, quick knit.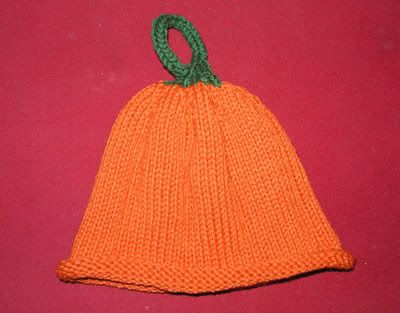 Pattern:
Kurbis baby hat
(otherwise known as Pumpkin Hat)
Yarn: Brown Sheep Cotton Fleece in Orange and Jungle Green on size 3 needles
Notes: Very cute!
My teddy bear tried both of these projects on and liked them as well: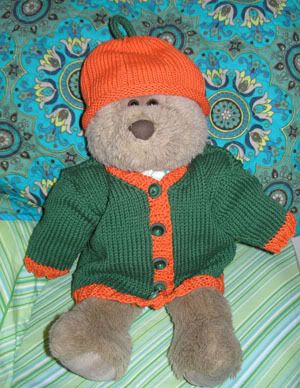 And one more baby project: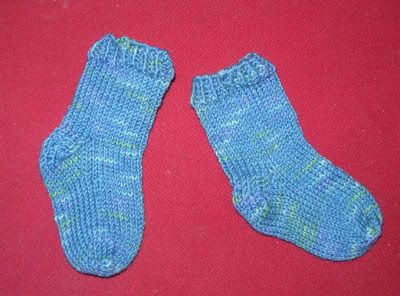 Pattern: Infant Socks, from the 2007 Knitting Pattern-a-Day calendar
Yarn: Regia Color 4-ply (remains from the Monkeys I knit for stariel) on size 1.5 needles
Notes: Also very fast.
So hopefully the little one will be warm in this cold winter!