A couple of weeks ago I followed a few links and ended up at the site for Stitch London's
Stitch Yourself
project. The idea is to have people knit, crochet, or sew miniature versions of themselves for the "Who Am I?" exhibit at London's Science Museum. I was really intrigued by the idea, and here is the result.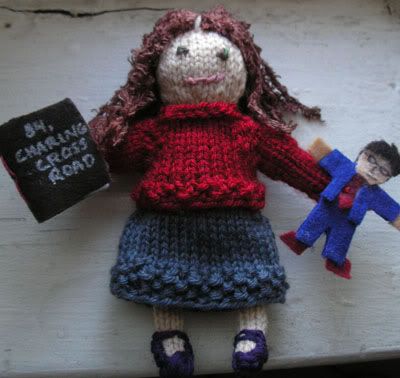 Pattern: Stitch Yourself Knit Body Blank (available at the Stitch London site, above)
Yarn: Leftovers of Red Heart Classic, Vanna's Choice, Valley Yarns Colrain, Valley Yarns Amherst, Berroco Chinchilla in various colors on US4 and US6 needles
She's weaaring purple Mary Janes, like a pair I have.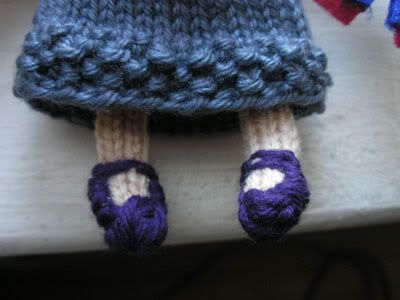 And she's carrying a Tenth Doctor (Doctor Who) doll, since that's what I'm most known (infamous?) for knitting. This was suggested by the brilliant
Kate
. I made him out of felt and superglue.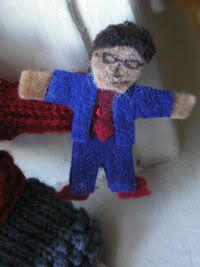 The other thing she's carrying is a copy of
84, Charing Cross Road
. I figured those two things summed me up pretty well--a dork, a knitter, an Anglophile, and a bookworm all rolled into one.
She's going off in the mail today to London, but I couldn't resist taking a picture of her with my Doctor Who dolls.
I hope my Mini Me enjoys London as much as I do.