My blog has been sadly neglected in recent days, for two good reasons.
1. I started a new job. While working is good, I'm still getting used to this whole getting up early and being out of my apartment all day thing. I've also been really tired, so for a while I wasn't getting much knitting done. I seem to have gotten past that and am knitting up a storm, but:
2. Several of my current projects fall into the "Shh! It's a secret!" category, meaning I can't write about them here or post pictures. You'll see them much, much later.
So, what can I show you, my knitting friends?
Cassandra
had a birthday a week ago and at her celebratory dinner, we presented her with a Sock Virgin kit. She's the only one of our little group who doesn't knit socks and we are determined to remedy that.
Included in the kit was a coupon book, redeemable for help on various parts of the sock knitting process, and here are a few of them.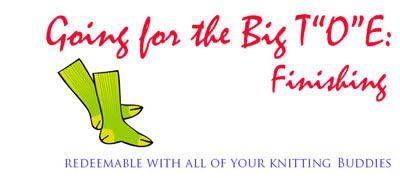 We had a little too much fun coming up those. And here's the birthday girl, enjoying her gift.
Now, as for my knitting, here are a couple of things to tide you over.
My first square on the
Lizard Ridge
afghan:
And my first short row heel!
So I am knitting away and hopefully will have more to show for it sometime soon.