I've been meaning to knit a vest for the past few months, to wear over a button down shirt at work, but I only just got around to actually doing it.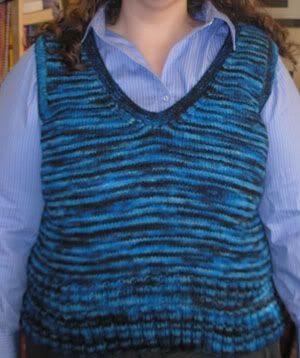 Pattern:
High Street Vest
by Kate Flagg
Yarn: Farmhouse Yarns Not Just for Socks in Storm (almost two skeins) on US 5 needles
I got the yarn in a swap over on the Doctor Who boards on Ravelry, and it's very nice. The one problem I had was that when I wound the skeins I discovered that one was considerably lighter than the other in terms of color. So I ended up alternating skeins every other row while knitting.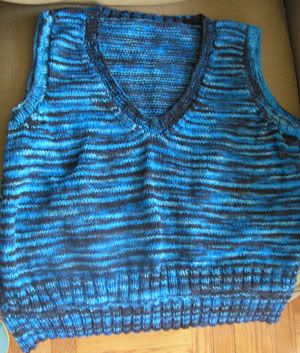 I would have really loved this pattern except for one little thing. It is supposed to be done specific to your measurements, so you're supposed to insert the numbers for where you want it to fall on your body. Except that I'm a really lousy judge of where things are supposed to be on my body and I ended up making the body of the vest far too short. Even a suggested number would have helped to suggest to me that maybe my numbers were not leaning the right way. Otherwise the pattern is great and leads towards a nice finished product. In the end I cast on and knit an additional three inches of ribbing and grafted that to the original cast on. It's not perfect--the seam is noticeable--but it's wearable. Another time I'll make one--with the right numbers.