Last Friday night,
Ariel
was determined to be spontaneous. Except
Catherine
, Betsy, and I kind of ruined that for her by planning what we would do, and we ended up eating pizza (yummy potato rosemary fontina pizza) at Cambridge 1 and watching the Red Sox take on the Yankees.
But! Then
Cassandra
called and actual spontaneity ensued, as we ended up at the
Top of the Hub
for dessert and drinks. It was fun to be up high and look at all of the beautiful views of Boston below us. And here are a couple of pictures I took with Cassandra's camera of the view of Fenway Park.
You can also see the Citgo sign just at the right edge of the picture.
And a closer-up view:
I ended up watching the Red Sox lose (sigh) with the waiters in the bar, but it was an entertaining evening!
And, in knitting news...
I am working on the Chevron Scarf from
Last Minute Knitted Gifts
, in Koigu (the yellow and green) and Lorna's Laces (Tuscany). It's feeling kind of endless, though it is moving along. Here's a work in progress pic: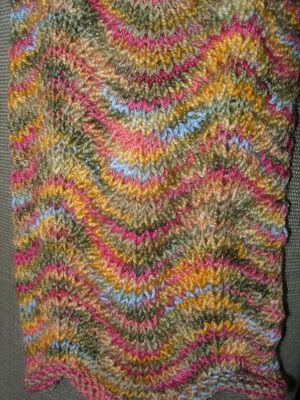 I'm also about halfway through my first Secret Spook project, though I may put that down to a couple of charity knitting projects. There's always something to do!