First, the crafty stuff.
When we went to
Alison
's
book signing
at
Webs
, they gave out little kits to make the House Bookscarves. I picked up the one for Slytherin, knowing a friend for whom it would be very appropriate.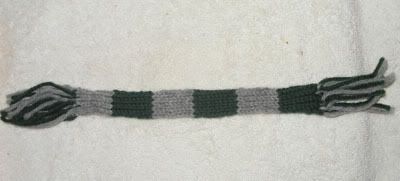 Pattern: House Bookscarves, from
Charmed Knits
.
Yarn: Valley Yarns Northampton in green and grey
Needles: size 8
At our last
Secret Swap
, Catherine gave me a how-to-make-marble-magnets kit she had put together, and I finally made some. It's hard to take a good picture of them, but here they are.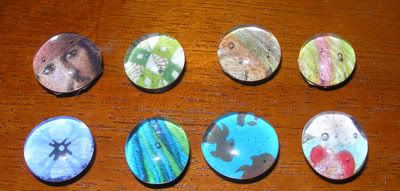 Less good news: I think my
Sockapalooza
socks (the ones I was supposed to receive) are lost in the mail. They were sent out three weeks ago, so maybe they'll still make their way to me, but it's looking doubtful. Alas.
And now for the fun. Yesterday was my birthday.
I made a cake, which I brought to
Knitsmiths
.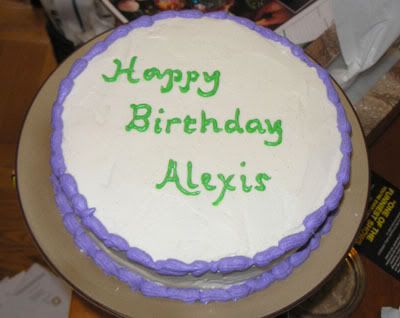 I went out to dinner with my lovely ladies.
That's
Ariel
, Betsy, and me.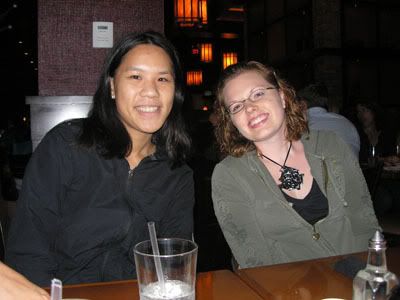 Catherine
and
Cassandra
.
They gave me a sock knitting bag from
Momma Monkey
! And it's the one I've been wanting--the London Calling bag!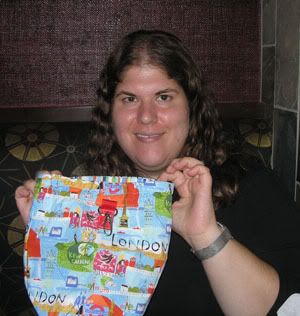 And we went to JP Licks and ate ice cream while sitting in the teacup.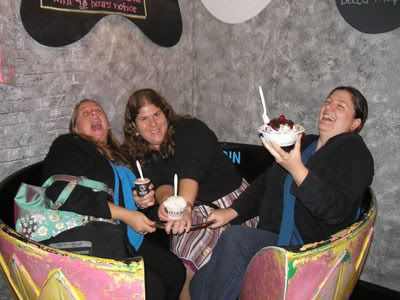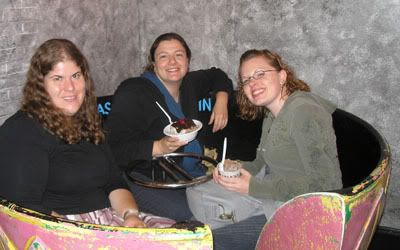 'Twas an excellent birthday!