Actually, two of them. I hadn't posted because I didn't have a completed knitting project to show off (I still don't, but I'm making an exception and posting an in progress one or I might never post) and because I've been busy. Doing what, you may ask? Finishing graduate school. As of today, I am finished with my master's degree in library science. Now to find a job. . .
Here's the one project I'm currently working on, which feels like it's been forever.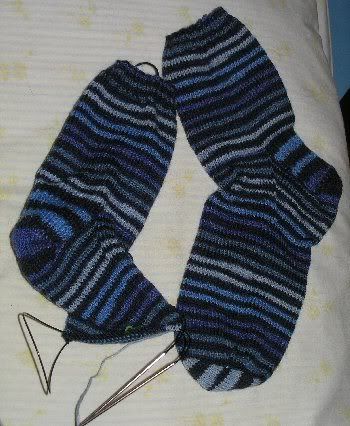 I've got about half of the foot left on the second sock, but I'm getting (shh!) a little bit bored of working on them, even if I do love how they're turning out.

And since my blog is named after a lovely dog, I'm going to post a few pictures from the Bay Colony Dog Show, which I attended last weekend. I got sniffed, licked, kissed, nuzzled, jumped on, and hugged. I love dogs. Where else does a girl like me see that kind of action?

And now, the dogs:
Poodles, of course!


A very friendly Great Pyrenees.


Isn't this an adorable face? It's a Tibetan Spaniel.


Here's one of the dogs I spent the most time with. This is a Sussex Spaniel. His name is Fuzzy. And he is absolutely adorable.