(That's one of the many quote-worthy lines from yesterday's events, which I'll get to shortly. But other events first!)
On Wednesday night I went over to
Catherine
and Betsy's to help decorate their Christmas tree. I had never decorated a tree before, and we had much fun. While testing the lights we turned Cat into a Christmas tree of her own.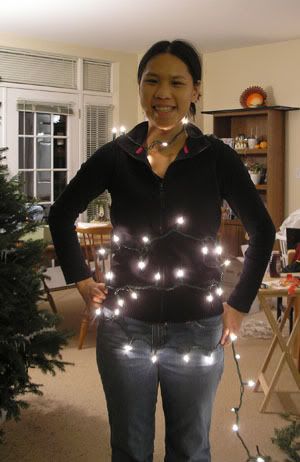 And here's the finished tree: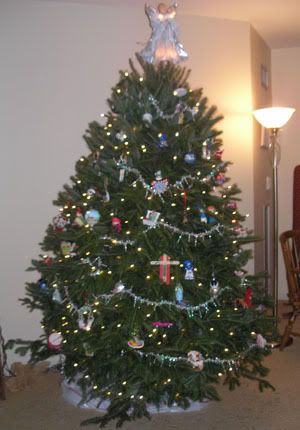 Thursday the city was blanketed with a large amount of snow, and another snowstorm was predicted for today (as I write this ice is clinking against my windows), so we had to squeeze in our yarn related event for the weekend into yesterday. Monkeemaven was is town visiting, so she,
Ariel
,
Cathy
, and I took a road trip out to
Webs
yesterday. There was a sign on the Mass Pike that said the picking up and discharging of passengers along the side of the road was prohibited. So whenever someone in the back seat said something obnoxious (like "Are we there yet?") our response was "Don't make me violate state laws!"
Webs was fabulous, as always. Much yarn to fondle and people to see. We saw
Linne
and
Marymac
. And yarn was bought.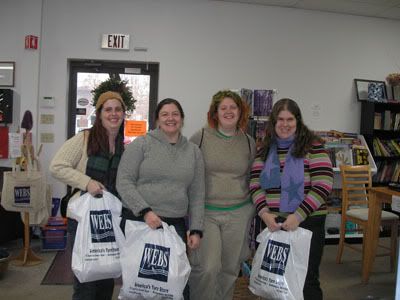 There is Cathy, Ariel, Melissa, and I with our yarn haul.
We also stopped at Valley Fabrics and picked up a few things. I found two lovely Asian fabric panels that I'm planning to frame and put up in my apartment. We also met up with
Rae
on the way home for dinner, so it was a very full but fun day!
And here's some of what I brought home: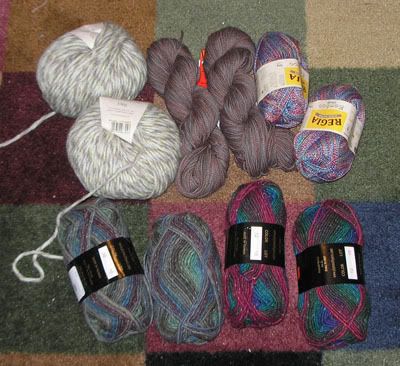 There's two skeins of Rowan Plaid to make Lyra's hoodlet from The Golden Compass, two skeins of Plymouth Happy Feet sock yarn in a bronzey-silver color, two skeins of Regia Bamboo (on closeout, and I've always wanted to try it), and four skeins of Plymouth Boku to make the striped scarf from
Brooklyn Tweed
. I also brought home a swift.
So, a very successful day. And today I plan to stay in and hibernate away from the ice. Finished objects tomorrow!