Now, this is what I call a good mail day.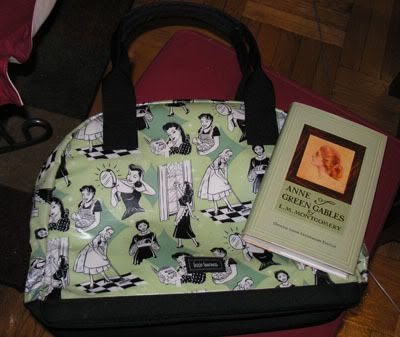 I received my very gently used Lexie Barnes Lady B bag, in the "Little Miss Perfect" pattern. I've been coveting this exact bag for a couple of months now, ever since I learned of its existence, but the pattern's long been discontinued. I got lucky and was able to buy this one off of someone on Ravelry, and it is so me, it's scary. I love it. So, even though I'm getting no knitting done (still), at least I'm not-knitting in style.
And I also received my 100th anniversary edition of
Anne of Green Gables
. I'm a tiny bit disappointed, since the picture made it look like the book cover was going to replicate the original 1908 edition, but it's only the dust jacket that does. But it's still a lovely copy, with the original illustrations and an introduction by Lucy Maud Montgomery's grandchildren, so I'm happy to have it go alongside my 21 year old copy on my bookshelf.