The evening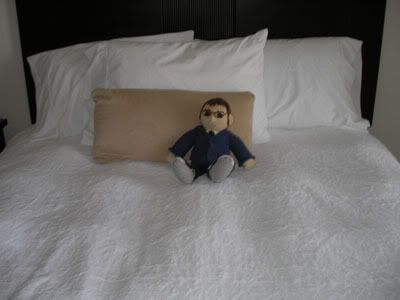 The Ravelry party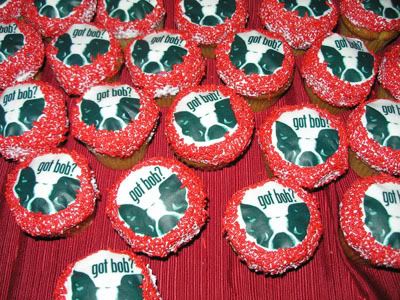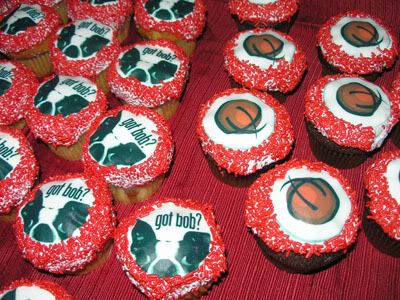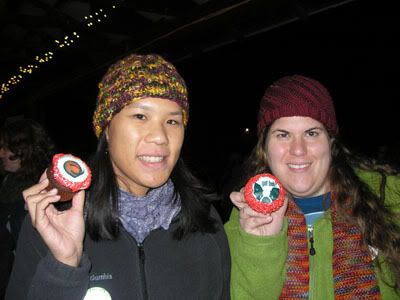 As you can see, my miniature Doctor Who did come along with me for the weekend, and he attended the Ravelry party. I had already gotten a lot of comments that day in regard to the
Yarn Harlot's post
, as well as a few people who had no idea who the doll was of but told me they "liked my boyfriend." :) But at the party I had my most surreal moment of the weekend. We were sitting at our table when Danielle, who had a better view of the room, turned to me and said, "um, I think the Yarn Harlot's pointing at you." A minute later Stephanie brought over a group of people to meet my David Tennant, saying one of her friends had a bit of a crush. Hee! They took pictures, and I even got asked if his pants come off (for the record: no. But his jacket does). And Stephanie told me it was the funniest thing she'd seen on her book tour. I think my knitting fame is complete!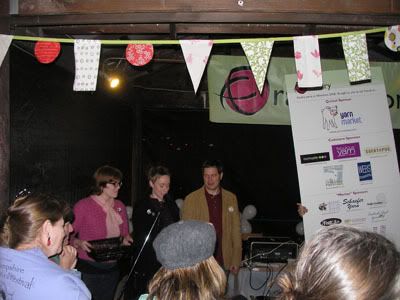 Our group's combined loot
What I got
Let's see, there's two skeins of Sheldridge Farms sock yarn in Fury, Sock that Rock Silkie in Seastone, a Socks that Rock lightweight mill end that's not labeled but I think is Lettuce Knit, Socks that Rock lightweight in The Cookie Next Door, and Kraemer black yarn with sterling silver in the top row, two skeins of Brooks Farm solo in the middle row, and eight skeins of Plymouth Galway in a green heather on the bottom.
But that's not all! On the way home we stopped, as we had done the year before, in Lenox and visited Colorful Stitches, who were having a fall sale. So I came out of there with these: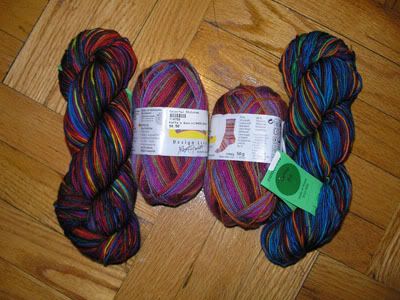 That's two skeins of Colinette Jitterbug (40% off!) and two skeins of the new Regia Kaffe Fassett sock yarn.
We had also stopped at the Jo Ann's Fabric store near our hotel and then made a stop at the going-out-of-business Fabric Place in Framingham on the way home. So I also got these: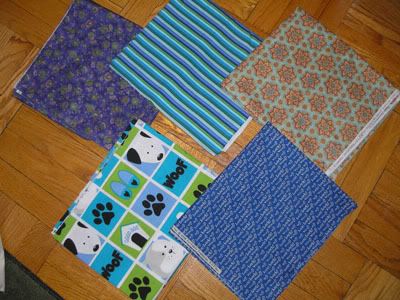 And yes, I did go over my budget for the weekend. But I got some nice stuff, and I had a fabulous time. I can't wait until next year!