I finished this up last night while watching five episodes of season one of Mad Men, so now at least I can wear it to the wedding I'm in next month!
Pattern: Little Silk Shrug, from
Lace Style
Yarn: Louisa Harding Jasmine (3 2/3 skeins) on size 7 and 8 needles
Notes: The sleeves are too big, as usual. I had sized up since there was no way the original stitch count would work but, as usual, I overestimated and made it too big. But at least it won't fall off my shoulders, unlike my last knit shrug.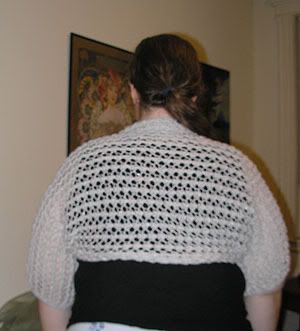 I wasn't trying it on with the dress, since the dress is hanging all neatly in my closet, but if the wedding pictures come out okay I'll post a few here later on.
But doesn't it look nice with my shoes for the wedding?