It's been a crazy few days around here, baseball wise, and we've still got one to go. Once the parade is over tomorrow, I swear this blog will go back to being mainly about knitting. But, for now, you'll have to bear with me.
Saturday night,
Catherine
and her roommate Betsy had a party to watch Game 3 of the World Series. We watched the game, kept score on a posterboard Green Monster, and ate lots of goodies. I made a Red Sox cake: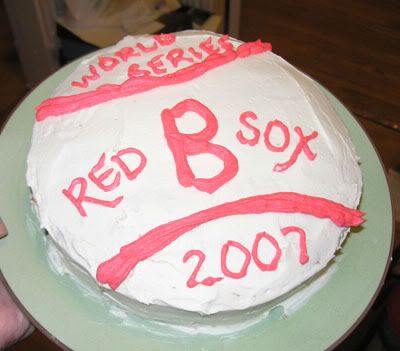 Ariel
wore the least amount of Red Sox stuff, so she got to wear the poncho and bright red wig: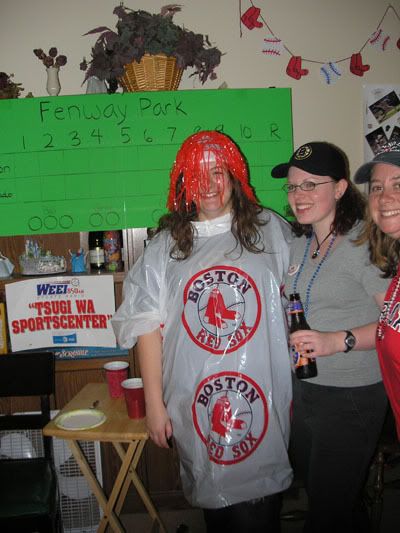 The Red Sox won, 10-5, and were up three games to none.
Last night I returned to Catherine's to watch Game 4 of the World Series. On our way home from an earlier get together we had seen all of the police arriving in our neighborhood, who were getting ready in case the Red Sox won. And they did, 4-3. The Red Sox are World Series Champions!
Catherine and Betsy tearing off the final sheet on their countdown chart after the game ended: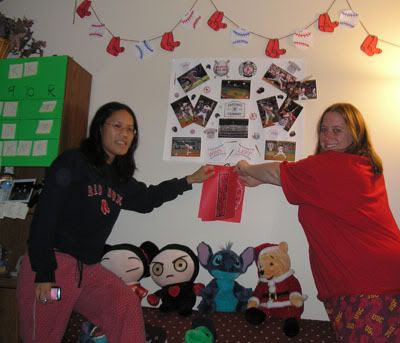 And today the Red Sox returned to Boston. I spent the afternoon on Yawkey Way, hanging out with others awaiting their arrival and getting more and more chilled as the day went on. I met a lovely dachshund named Roxie, who became our mascot for the afternoon: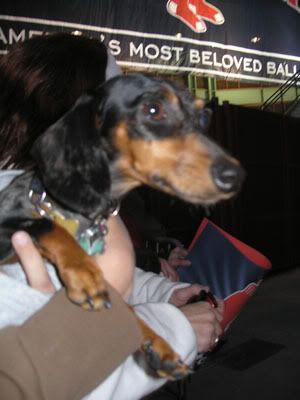 Around 2:30 in the afternoon, they took the 2007 American League Championship banner off the side of the park and replaced it with the 2007 World Series Championship banner:
And, eventually, our waiting was rewarded.
The owners of the team, Tom Werner and John Henry, with the trophy: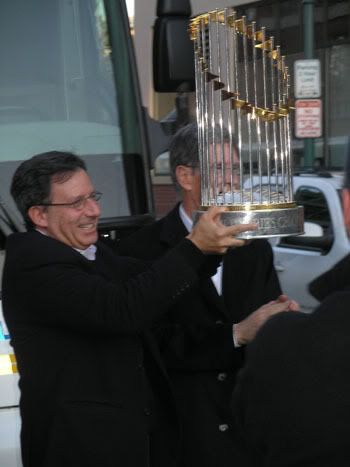 The GM, Theo Epstein, with the trophy: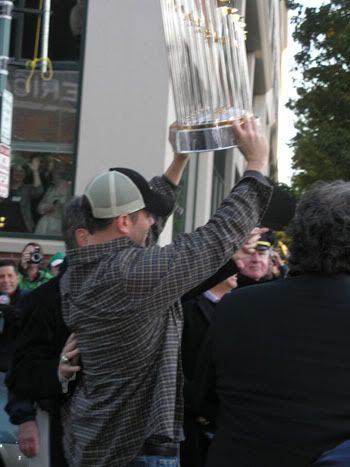 And I got to touch the trophy! There is video
here
, where you can see me touching the trophy--I'm wearing a bright green fleece--and then later in the video during the chanting. (I think they were focusing on Roxie, who was over my shoulder.)
But here's a couple of screenshots, in case that video disappears (I'm on the left in both).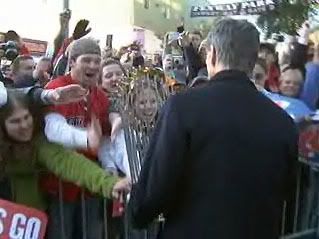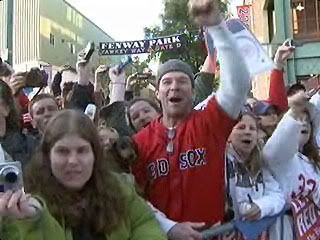 I've also found myself in some other web video and in one of the photo galleries on Boston.com, which manages to capture the exact moment right before I thought I was going to die. I was trying to take a picture of Bobby Kielty, and I was right by the barrier, and everyone started pushing from behind and the barrier started to give away, which was a little terrifying. But it was okay.
And then we saw some of the players.
Big Papi, David Ortiz: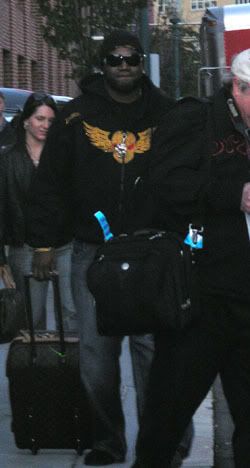 Curt Schilling: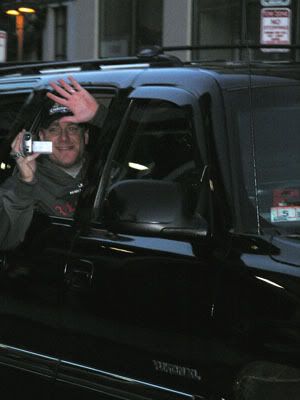 And tomorrow's the parade, where hopefully we will see some jigging!