I went home to Pennsylvania this weekend for a wedding. And I did wear the infamous shrug. And there are pictures. See: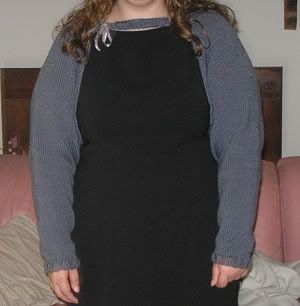 Pattern:
Shimmer
, from Knitty
Yarn: Valley Yarns Colrain in Steel, 7 skeins
Notes: It came out too big in general. In the picture below, you can see it hanging low on my shoulders, even after the modifications. And the sides were hanging like bat wings.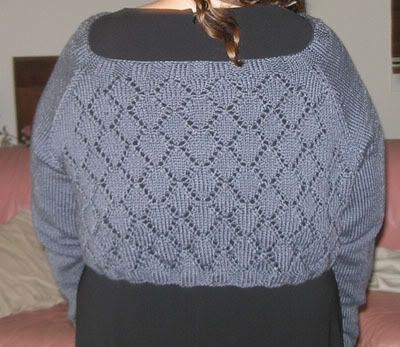 Modifications: I folded in the corners of the sides and stitched them into place. Then I added a ribbed band at the neck to hold the fronts together and tied it at one side with a piece of silver ribbon.

The band at least kept it from falling off entirely, but it did stretch out as the night went on so, overall, it didn't do that much good.
So I made do, though I'm still not too thrilled with it. But the wedding was much fun.
And as I write this I'm watching
Pushing Daisies
. This show equals love. I adored Lee Pace on
Wonderfalls
. And there's even knitting!