Remember my
modified Miss Dashwood hat
? Here it is again, this time on its adorable recipient: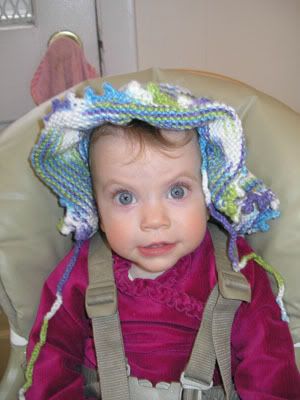 It's a tiny bit big, but that's good, so she'll be able to wear it for a while.
Also, at Catherine's urging, I've signed up for
Sockapalooza 4
. Got to use up some of that ever growing stash!
I'm considering instituting a bit of a yarn diet, since I have no money to be spending on yarn. It would have a few exceptions, most notably yarn for dyeing, any sales on Noro Kureyon (as I really want to make
Lizard Ridge
someday), and if we make it to the Webs tent sale next month. Exceptions might also be made for buying yarn for very specific projects, but no general stash buying!