We've been trying to get together to do yarn dyeing again for awhile, and each time we've failed in the attempt. Until last week, that is, when
Amanda
brought all of her cool professional dyes over and taught us how to use them.
All of us in the kitchen, except for Amanda who was taking the picture:
That's
Catherine
, me,
Ariel
, and
Cassandra
, while Catherine and I were wrist deep in dye.
Here's Cassandra, working on her yarn. You can see all of the bottles of dye Amanda made up for us to use.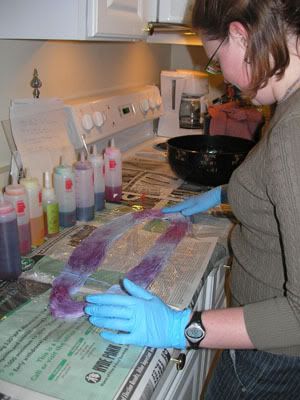 Here's my semi-solid skein soaking in dye: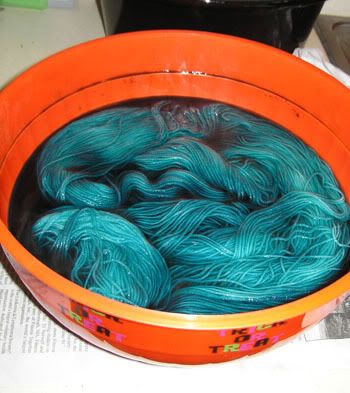 All of our finished skeins, hanging to dry: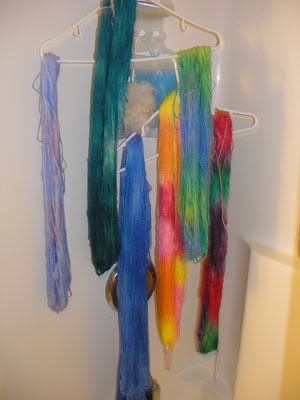 And my finished yarn: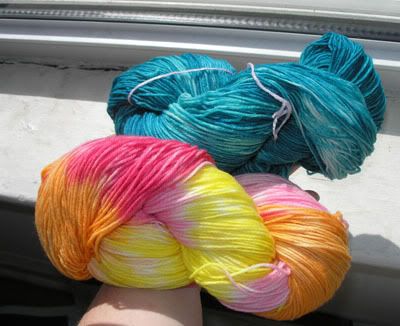 The bottom one I'm calling "Tie Dye Sunset," but I don't have a name for the top one as of yet.
We had a lovely evening of hanging out and playing with the dyes. We took a break while the yarn was steaming and went out for ice cream. The guy behind the counter asked what we girls were up to that evening and when I answered, "Dyeing yarn," gave us an odd look. Apparently, he thought I said "dying young," and couldn't figure out why we all had a death wish!
Thanks again, Amanda, for the dyeing lesson!