I divided my stash into two parts for the purpose of these pictures*. The First is General Yarn.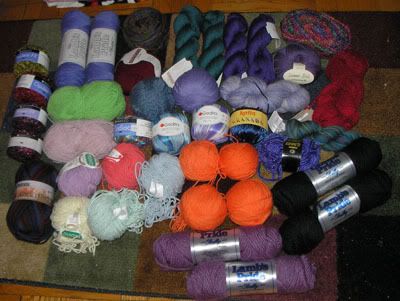 If you look close--I'm sorry I didn't take any close up shots--you can see some Lamb's Pride, some Paton's Classic Merino, some Knitpicks Gloss, some balls of Cascade 220, orange Cotton Ease frogged from a disastrous attempt at a shrug, and there's one skein of ArtYarns supermerino hiding somewhere in there.
The Second picture is, of course, sock yarn.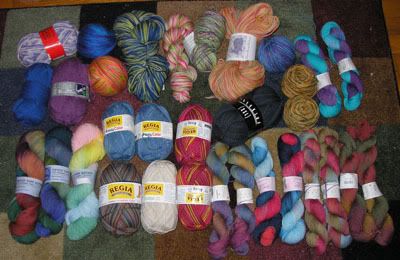 I have been greatly influenced in the matter of knitting socks by
Ariel
, who was also the one who taught me to knit Magic Loop. The student has definitely not outshone the teacher in terms of stash, but I'm building a nice little pile. Let's see, up top we have some Sockotta, some yarn I dyed myself, some Sunshine Yarns by
Dani
, a skein of Sugar Bunny Boulevard that I got from
Alison
, Ellen's Half Pint, Trekking XXL, and Koigu. And on the bottom, there's Socks that Rock, Regia, and Lorna's Laces.
And that's my stash!
*what these pictures do not include: yarn involved in projects currently on the needles, yarn to be dyed, half skeins of acrylic from when I first started that are waiting to be donated. I also took these pictures a few days ago, and a couple more skeins may have made their way into the stash since then. :)